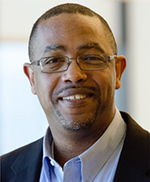 Roderick Jefferson is an experienced sales enablement executive with over 20 years of experience building enablement organizations covering the Enterprise and SMB space around the world. He has extensive experience in creating sales enablement organizations and has been responsible for the successful delivery of a series of integrated cross-sell/up-sell methodologies and sales execution programs that drove significant incremental revenue.
Roderick has won numerous awards including being recognized for the 2015 Sales Onboarding Program of the Year by SiriusDecisions.
TIM OHAI, 
Solutions Architect
Tim is a seasoned sales enablement practitioner. With almost 20 years of international sales enablement experience, he consistently helps Enterprise and SMB leaders solve large, complex problems- especially around topics of architecting systems that increase revenue and operational efficiencies, guiding sustainable and healthy change, and creating genuine leadership cultures.
Tim has also created a problem-centric selling methodology and co-authored three books: World-Class Selling, Sales Chaos, and The Power of Problems.
ED ROSS, 
Solutions Architect
Ed has partnered with organizations to improve profitability, efficiency, and productivity using strategies to quickly enhance performance and transform success. He works closely alongside his clients to facilitate large-scale change and leadership development initiatives.
He helps organizations to design, develop and implement powerful sales enablement and coaching strategies in order to achieve their biggest goals.
TAMERA SCHMIDT, 
Change Management Architect
Tamera is a 20 plus year experienced facilitator and neurocoach with the professional certified coaching status with the International Coaching Federation. She leverages her neuroscience background to focus C suite executives, business leaders, sales and enablement professionals to drive revenue and delight customers.
Tamera's clients achieve their professionals and personal goals through action oriented insights, assisting them to drive positive change.